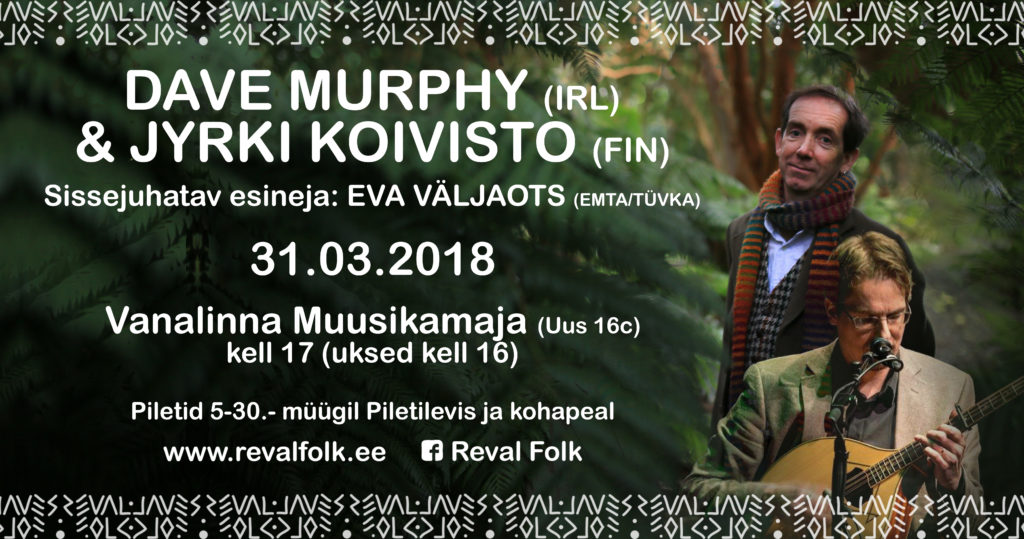 On the 31st of March at 5pm, Reval Folk has the joy and privilege of welcoming the musical talents of Irish flute player and singer Dave Murphy and Finnish guitar player Jyrki Koivisto to the historic and inviting Vanalinna Muusikamaja in Tallinn. 
Eva Väljaots (on the traditional Estonian harp) from the Estonian Academy of Music and Theatre will be the opening act of the concert. The evening will end with a circle of traditional Estonian runo-songs, led by folklorist, music scientist and Music Academy professor – Janika Oras.
The concert takes place within the Reval Folk concert series.
At the concert you will hear Irish songs and stories about life, and about love lost and found. "It is the opening of hearts in the new time in the old way," says Dave.
DAVE MURPHY from Ireland, with his deep singing voice and dextrous, talented flute playing, is a much in-demand musician across the world. In addition to Asia and the USA he has also lived and worked in Finland, and performed with several Estonian folk musicians, especially Brothers Johanson. There has also been a period in his life where he called Estonia his second home.
Dave has been one of the initiators of a number of impressive Irish folk bands like Prosper and Tre, and was a member of Anoise. He has also brought these groups to the Viljandi Folk Music Festival, where he has participated since the birth of the festival, 25 years ago. Read the interview with Dave HERE
He has also made music with Irish bands like Hobhatchers, Pócaí Folamh, and Reel Music (together with Jyrki Koivisto) and has been a collector of Irish folklore in his own home county (County Wicklow) in Ireland.
JYRKI KOIVISTO, from Finland, brings his daily bread to the table as a priest in Ylojärvi, Finland, but on the other hand he is also a renowned specialist of Irish music (performing in the Finnish band Eala), and artfully plays the guitar, mandolin, Irish bouzouki, the banjo and the lap steel guitar. Jyrki and Dave have been playing together in the bands Prosper and Reel Music. Life as a musician has brought him to the stages of bigger folk music events like the Helsinki Irish Music Festival, the Irish Festival of Oulu, Haapavesi Folk, and the Kaustinen Folk Festival just to name a few. Throughout the years he has cooperated with many Finnish and Irish musicians, with whom he has also joined in Irish music folk jams, to meet others, share music and be part of a living tradition. Read the interview with Jyrki HERE
Dave and Jyrki will be performing within the Reval Folk concert series after a five year pause and we are happy to be witnessing this special moment.
EVA VÄLJAOTS is a kannel (Estonian harp) player who enjoys improvisation in different soundscapes. On the journey with her different kannels, she likes to search for new sounds. Eva plays in the Estonian music ensemble Sinitrii, which mostly creates their own music inspired by folklore. At the moment she is a Master of Arts student in a joint MA programme between the University of Tartu (Viljandi Culture Academy) and the Estonian Academy of Music and Theatre.
After the concert, both the musicians and the audience are welcome to join in a circle of runo-songs led by the folk-singing students from the Estonian Academy of Music and Theatre with their teacher, researcher of folklore and music – JANIKA ORAS. Everyone is welcome to bring their own songs!
TICKETS 5-30euros
Are available from Piletilevi HERE (presale tickets cost less)
On location
TICKETS:
From                                                         PILETILEVI            On location
Full ticket                                                   13                           15
Student, teacher                                          8                           10
Family ticket (max.adults and children)     20                           20
Pensioners                                                  5                            7
Donator                                                      30                          30+
4 people all-together ticket                         30                          30
Children of preschool age – free
ON LOCATION:
The doors will open at 4pm.
Café "Koloniaal" will be on location to guarantee your comfort if you arrive earlier. You are also very welcome to join the concert with your families! During the concert we have activities for children if they feel uncomfortable in the main hall.
LISTEN
Dave Murphy:
Tippy Toes
Coleraine Jig
Where are you tonight?
Destitution
Dave Murphy and Jaak Johanson
Anoise at Viljandi Folk  Music Festival
Anoise and Johansons
Dave and Harry Bent (Anoise)
Reel Music (Dave and Jyrki)
Eva Väljaots at
Soundcloud
REVAL FOLK
Reval Folk is a civic initiative that began in cooperation with NGO Reval Folk and the folk music department of the Tallinn-based Estonian Academy of Music and Theatre.
Our aim is to offer people in busy Tallinn the chance to reconnect with their roots through regular folk music concerts (that offer both traditional music and music inspired by traditional music) and workshops. Our second biggest aim is to inspire young people to study folk music on a professional level in the Estonian Academy of Music and Theatre.
In the summer of 2018 we plan to organise an international folk music camp named "Reval Ethno" for children who are 8-16 years of age. Our aim is to eventually have a regular presence of folk music in the Tallinn music scene.
More info: www.revalfolk.ee and www.facebook.com/revalfolk
This project is supported by: The Ministry of Internal Affairs and the National Foundation for Civic Society, Estonian Cultural Endowment, Estonian Academy of Music and Theatre, Tallinn city, Veebimajutus.ee, café "Koloniaal", Bioneer.ee, Tallinn in Your Pocket,  Reval Café, OÜ Jajaa, Fleur Royale by Peter Boeijkens and Tallink Silja
Partners: Estonian Academy of Music and Theatre, Old Town Music House, EV100, Estonian Folklore Council and Estonian Kannel Union and The Folk Dance Club of Tallinn
SUPPORTERS:

PARTNERS