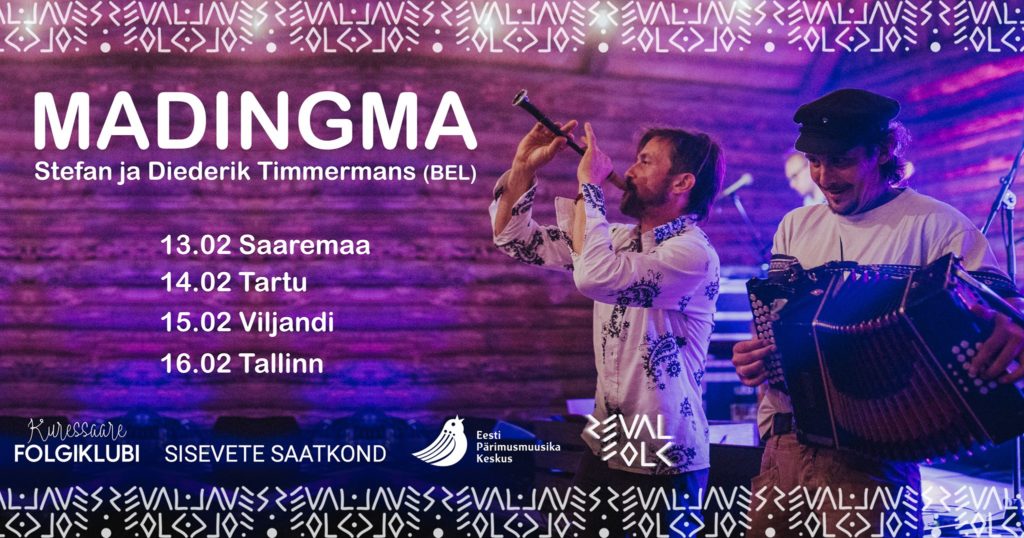 See photos from the concert HERE
Madingma – Stefan and Diederik Timmermans (Flanders, Belgium)
16th of Febuary at 7 p.m., Vanalinna Muusikamaja (Old Town Music House (Uus st. 16c))
Reval Folk is proud to present "Madingma" – a duo of two Flemish brothers (Stefan Timmermans and Diederik Timmermans) who are on an unstoppable musical journey through Europe with their bagpipe, flutes and diatonic accordion. This gives them reason to meet, practice and jam in living rooms, pubs, and on big and small stages. In cooperation with Reval Folk, Madingma will perform an acoustic concert in Tallinn.
The concert takes place within the Reval Folk concert series.
Read also the interview with Stefan Timmermans who has inspired many successful folk artists in Estonia HERE
On Saturday, the 17th of February at 2pm Stefan Timmermans and his brother Diederik Timmermans will also hold a workshop on Flemish music on Estonian Academy for Music and Theatre. The workshop is for free. More info HERE
From                               PILETILEVI            On location
Full ticket                                 13                   15
Student, teacher                       8                   10
Family ticket (2+2)                   25                   25
People on retirement                 5                    7
Donator                                    30                   30+
Children in preschool age for free
The doors open at 6pm.
Café "Koloniaal" will be on location to guarantee your comfort when you arrive earlier. You are also very welcome to join the concert with your families! During the concert we have activities for children if they feel uncomfortable in the main hall.
MADINGMA
Stefan Timmermans (1973) has given a lot to the Estonian folk scene in the past 20 years with bands like "Fluxus" and "Madingma" (together with his brother Diederik Timmermans). Due to this, they are amongst the most appreciated and inspiring musicians in the history of the Viljandi Folk Festival (which celebrated its 25th year in 2017). During the  2017 Viljandi Folk Festival, they were joined by Peter van Accom (a Belgian violin player, living in Sweden) as honorary guests of the festival.
"Stefan Timmermans started to play Flemish bagpipe at 12 years old, participating in the band called Arjaun, with whom he performed at least 1 000 times.  Estonian young musicians met Stefan the first time in 1991 in the ethno-camp of Falun, Sweden. In 1996-2006 Stefan played in an internationally well-known folk group "Fluxus". Together with his younger brother Diederik (a diatonic accordion player) they formed a duo called "Madingma", a band that also played on Viljandi Folk Music Festival in 2009. In 2010, Estonians could enjoy a tour of both Stefan and Jaak Johanson, that was organised by Eesti Kontsert (Estonian Concert Foundation)." (22.08.2016, A. Johanson, Postimees).
In addition to being an internationally well-known Belgian folk musician, Stefan Timmermans has also been an organiser of many folk festivals in Belgium, contributed to numerous radio shows, and has worked as a bagpipe teacher in Belgium (Dé Academie – Ieper).
Diederik Timmermans (1978) is an exceptionally talented autodidact inspired by a.o. Bruno Le tron and Didier Laloy. Together with Birgit Bornauw and Pieter Lenaerts he formed the promising band "Netel". In Belgium, they were selected for a cultural exchange project in Ireland and Calabria (Italy). Diederik Timmermans also participated in various Ethno-folk music camps and gave several courses on diatonic accordion and Belgian folk music.
The amazing capacity of Stefan and Diederik Timmermans to connect with the audience has inspired many Estonians to become musicians, learn traditional instruments, and start following their own path of traditional music.
LISTEN to their music
Stefan Timmermans playing bagpipe and flutes:
with his previous band "Fluxus" and also here and here
street pop-up concert in Tallinn Old Town summer 2017
REVAL FOLK
Reval Folk is a civic initiative that began in cooperation with NGO Reval Folk and the folk music department of  the Tallinn-based Estonian Academy of Music and Theatre.
Our aim is to offer people in busy Tallinn the chance to reconnect with their roots through regular folk music concerts (that offer both traditional music and music inspired by traditional music) and workshops. Our second biggest aim is to inspire young people to study folk music on a professional level in the Estonian Academy of Music and Theatre.
In the summer of 2018 we plan to organise an international folk music camp named "Reval Ethno" for children who are 8-16 years of age. Our aim is to eventually have a regular presence of folk music in the Tallinn music scene.
More info: www.revalfolk.ee and www.facebook.com/revalfolk
This project is supported by: The Ministry of Internal Affairs and the National Foundation for Civic Society, Estonian Academy of Music and Theatre, Tallinn city, Veebimajutus.ee, café "Koloniaal", Bioneer.ee, Tallinn in Your Pocket, Arensburg Boutique Spa Hotell, Saaremaa Veski, Reval Café, The café of Green House in Viljandi, Café "Pööre" in Tartu.
Partners: Estonian Academy of Music and Theatre, Old Town Music House, EV100, Estonian Folklore Council, Estonian Traditional Music Centre (Viljandi), The Folk Club of Saaremaa, The Folk Club of Tartu, Cultural Club "The Embassy of Internal Waters" (Tartu)
Organisers: NGO Reval Folk, Estonian Academy of Music and Theatre, Estonian Traditional Music Centre, The Folk Club of Saaremaa, The Folk Club of Tartu.
SUPPORTERS

PARTNERS