Interview with the Welsh Musician Martin Leamon
Martin Leamon, together with Sille Ilves and their duo SILD will be the opening performers of the second season of Reval Folk this year on the 15th of September at 7pm at Vanalinna Muusikamaja (Uus st 16c). Their intro players will be children who participated at Reval Etno childrens camp. Martin and Sille were also their teachers. More about the concert here: https://www.revalfolk.ee/concerts/sild-sille-ilves-and-martin-leamon-estonia-wales-with-reval-etno-kids-15th-of-september-2018/
Tickets here: https://www.ticketer.ee/reval-folk-sild-ja-reval-etno-lapsed
We asked some questions from Martin Leamon and he answered 🙂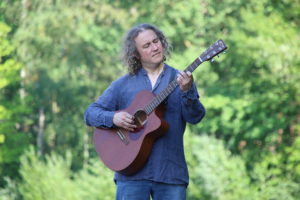 Which geographical place(s) give you as a musician the most playing strength and inspiration for your duo playing?
Inspiration can come from anywhere, at any time. Generally speaking however the beautiful Gower peninsula in Wales (where I come from) is an endless source of joy for me. The kitchen at Alltfechan, Pencader, home of Ceri Rhys Matthews and Julie Murphy, is always filled with amazing food and music. The Eagle pub, Llanfihangel-Yr-Arth is tiny, cosy and an unassuming oasis of deep culture.
Have you, and if so who are your, role models musically and in thinking?
Influences come from many people, too many to mention. Big influences are Ceri Rhys Matthews and Neil Young. I highly recommend you explore both of their work.
Where have you been playing (and are playing) the most? Who is your audience?
Most of life has been spent in Britain. There I've played in pubs, churches, arts centres, festival stages, castles, fields full of drunken bikers, hay barns, on beaches, in folk clubs, museums, town squares, garden parties, jazz clubs, village halls….. Playing around the world you realise that people and places are the same everywhere, we're under the same sun – only the food is different. Audience can be anyone, and often has been, open-minded people are my favourite.
Have you experienced some extreme concert situation or concert happening (yourself or being in the audience)?
In 2009 SILD played at the Smithsonian Folklife Festival in Washington DC, USA. Over a million people pass through the festival over 10 days. I was introducing a tune and mentioned Gower, my home. A voice from the audience whooped and cheered. I asked if that person knew Gower. A young woman's voice replied "Yeah, Three Cliffs Bay" (a well known local beach). I said that's my local beach, I'm from Pennard (my village). The voice replied "Pennard! That's where I'm from!"
The rest of the audience was captivated by our conversation and was laughing and cheering along. I asked the lady her name, she told me and I told her I was in school with her sister! The audience loved it. I had a talk with her afterwards, it was just by chance she was in Washington that day, and just chance she came to our concert at that time. You travel half way around the world and meet someone from your village (her family had emigrated 25 years earlier). Small world isn't it?
What does music mean to you?
A form of personal expression. A glimpse of your soul.
What does tradition mean to you? What does it mean to be a tradition carrier and playing
traditional music?
A flowing river. It's the same river from source to sea but is constantly changing, and is never
actually the same at any two points. Being a tradition carrier and playing traditional music means being part of that river for a while, therefore forever changing it and being changed by it.
What do you think traditional music gives to the youth who play it today?
I would hope it gives them a means of personal expression (see above) and a chance to be part of a continuum that is bigger and greater than any of us. I hope they recognise it as an alternative to mainstreamism and don't see it as a means of cheap popularity or fame.
What is your dream about the World? What kind of World would you like to live in?
It all depends what sort of mood I'm in – what I had for breakfast. It's far from perfect of course but it is the only one we've got. I like the Dalai Lama's entreaty "Be optimistic – it feels better". I suppose it would be nice if a Utopia existed – although it is the grit that produces the pearl – so sidestepping Plato and Sir Thomas Moore I would like to point you to the deep philosophical tract that is contained within the song "The Big Rock Candy Mountains".
Questions by Sänni Noormets and Kadri Allikmäe from Reval Folk team.