0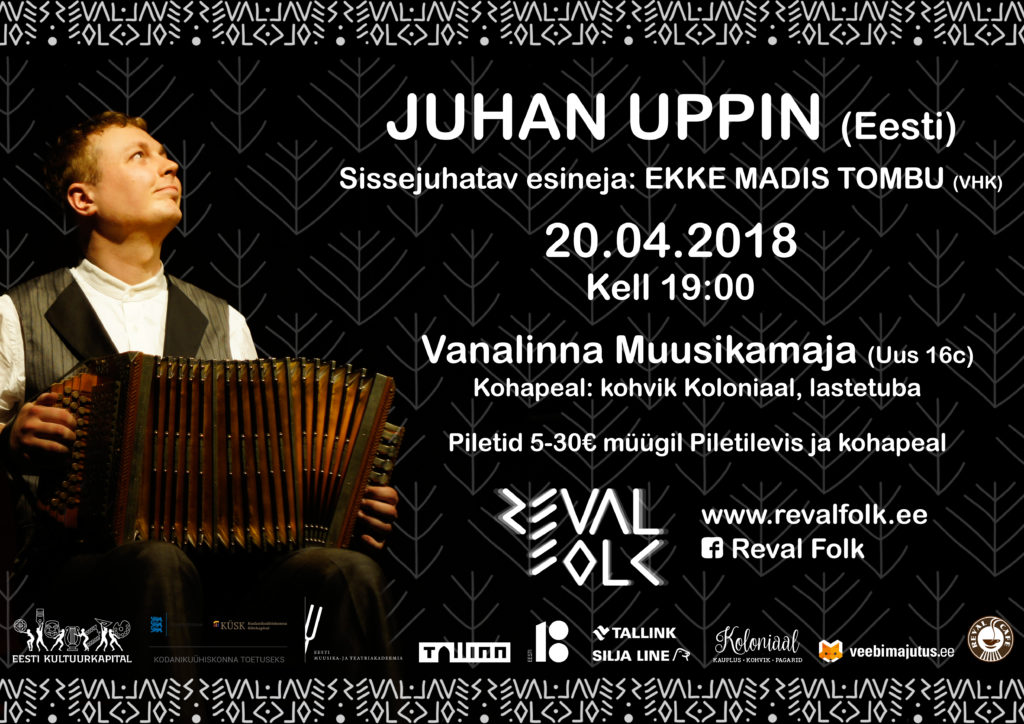 Juhan Uppin (Estonia) on the 20th of April at 7pm
Old Town Music House, Tallinn (Uus 16c)
This time Reval Folk invites everyone to listen to some truly Estonian music. On the 20th of April at 7pm we have the honour of welcoming the the king of Estonian squeezebox – Juhan Uppin – to Old Town Music House in Tallinn.
The concert hall of Old Town Music House (Vanalinna Muusikamaja) is a very special place for Juhan Uppin, because his musical career started from here. Before he even entered school, he started learning the traditional Estonian harp (väikekannel) from Tuule Kann. This is also a reason why he will make a gesture for väikekannel on his concert. He will also play squeezebox tunes from his fourth solo album, which will be released soon.
The concert will be introduced by Juhan's first teacher – Tuule Kann, and by Ekke Madis Tombu, a 7th grade student from Collegium Educationis Revaliae (Old Town Educational College in Tallinn).
The evening will finish with a jam session by the Squeezebox Club of Tallinn.
With this concert Reval Folk also celebrates Estonia's 100th birthday. This will be the 6th Reval Folk concert this season.
The doors open at 6pm.
Café "Koloniaal" will be on location to guarantee your comfort if you arrive earlier. You are also very welcome to join the concert with your families! During the concert we have activities for children if they feel uncomfortable in the main hall.
As usual, the tickets from presales cost less (until 12th of April) and you can purchase them HERE
Preschool children will get in free of charge.
See you there!
Reval Folk
JUHAN UPPIN
The most diverse teppo-squeezebox player reaches down into the depths of the tradition's roots, but always tries to find ways to
incorporate the modern world into his playing too.
As a self-taught musician, he quickly developed his own unique and fresh playing style, from which many others have followed. Uppin is a master of the technique of one of the most famous squeezebox players from 20th century, Karl Kikkas. He also has developed Kikkas's style into his own. Uppin, as a musician, has a very exquisite sense of style, is a master of technique and plays spiritedly.
Another old master whose footsteps Uppin has followed is Aksel Tähnas from Järvselja, who played another variation of the Estonian wind harp (Päkarauakannel). With his solo concert, Juhan Uppin will introduce this peculiar instrument, one of a kind in the world, and shows that it is not very different in play from the traditional wind harp.
Next to his solo career, Juhan Uppin is an active in bands like Rüüt and Tuulelõõtsutajad. He is a teacher at the Music School of Eino Eller in Tartu and in the Estonian Academy of Music and Theatre. He is also the leader of ethno-musicians at the National Song and Dance festival. He also hosts a popular competitive TV show "Rahvalõõts". In 2015 he received his master's degree from EMTA and TÜVKA in traditional music, being the first and last interpreter with a master's degree in squeezebox in Estonia.
Recently he was nominated for the annual Cultural Endowment of Folk Culture award.
TUULE KANN
A Folk musician, wind harp player, and a mentor of the association of Estonian Folk Dances and Folk Music, Tuule Kann has learned the chromatic wind harp in Estonia and Lithuania and has added to her knowledge in Finland, at the Sibelius Academy. She has introduced herself to other types of the wind harp through her practical work and holds the traditional wind harp player from Estonia and its neighbouring countries as her main idols. Tuule is one of the main guiding lights in the rebirth of the wind harp playing scene in Estonia. For the last few years she has been active in mapping the Estonian traditional wind harp players, an initiative started by the Estonian Folklore Council.

Tuule has held renditions in Estonia and other traditional wind harp countries and has performed with several bands (Eesti Keeled, Üsna Vaikne Duo, Suurõ Pilvõ, Kannelkond, Tuulekandled etc.).
Tuule Kann has won the prize of annual Cultural Endowment of Folk Culture award in 2001. And was a nominee for the folk culture prize in 2009 as well. In 2018, she was awarded with the 'Teotugi' prize by the Estonian Council of Folklore, for her remarkable work for keeping the traditions of wind harp playing alive in Estonia. (Sources: Estonian Council of Folklore and the association of Estonian traditional dances and music.)
EKKE MADIS TOMBU
Ekke Madis Tombu is a 7th grade student from Vanalinna Hariduskolleegium, who will be graduating this spring from the VHK music school, in the department of the wind harp. He was introduced to the wind harp while at a camp, before even starting school. In addition to the wind harp, Tombu has played the piano, guitar and the garmon.
TICKETS 5-30 euros
Are available from Piletilevi

HERE

(pre-sale tickets cost less)

On location
ON LOCATION:
The doors will open at 6pm.
Café "Koloniaal" will be on location to guarantee your comfort if you arrive earlier. You are also very welcome to join the concert with your families! During the concert we have activities for children if they feel uncomfortable in the main hall.
LISTEN to Juhan Uppin
REVAL FOLK
Reval Folk is a civic initiative that began in cooperation with NGO Reval Folk and the folk music department of the Tallinn-based Estonian Academy of Music and Theatre.
Our aim is to offer people in busy Tallinn the chance to reconnect with their roots through regular folk music concerts (that offer both traditional music and music inspired by traditional music) and workshops. Our second biggest aim is to inspire young people to study folk music on a professional level in the Estonian Academy of Music and Theatre.
In the summer of 2018 we plan to organise an international folk music camp named "Reval Ethno" for children who are 8-16 years of age. Our aim is to eventually have a regular presence of folk music in the Tallinn music scene.
More info: www.revalfolk.ee and www.facebook.com/revalfolk
This project is supported by: The Ministry of Internal Affairs and the National Foundation for Civic Society, Estonian Cultural Endowment, Estonian Academy of Music and Theatre, Tallinn city, Veebimajutus.ee, café "Koloniaal", Bioneer.ee, Tallinn in Your Pocket,  Reval Café, OÜ Jajaa, Fleur Royale by Peter Boeijkens and Tallink Silja OÜ
Partners: Estonian Academy of Music and Theatre, Old Town Music House, EV100, Estonian Folklore Council, Estonian Kannel Union and Estonian Folk Dance Club.
SUPPORTERS

PARTNERS