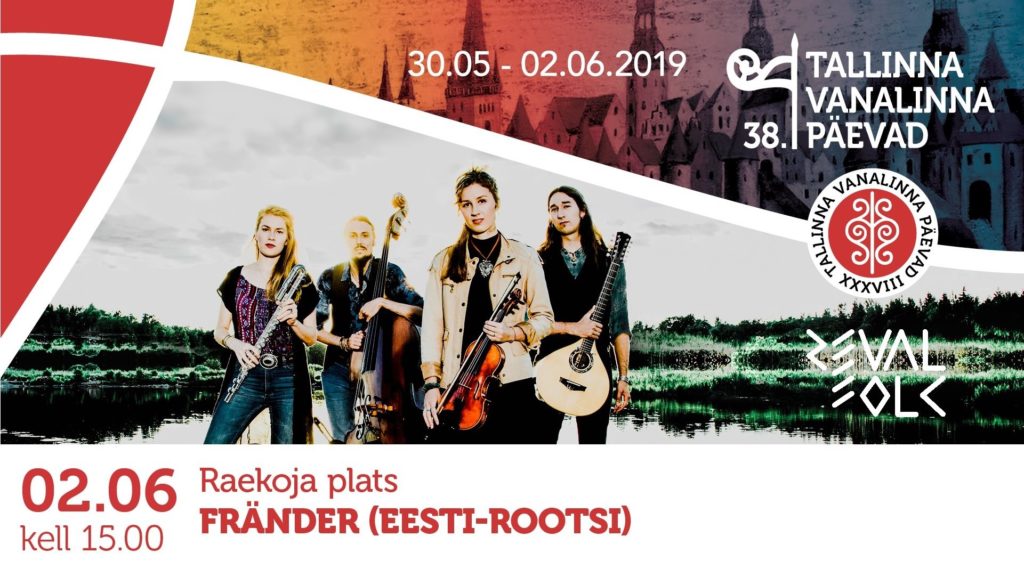 Reval Folk presents: Fränder at Tallinn Old Town Days
2nd of June 2019 at 3pm
Townhall Square, Tallinn Old Town
On the 800th birthday celebrations of Tallinn city Reval Folk has the joy of welcoming Estonian-Swedish band Fränder on the stage of Townhall square in cooperation with Tallinn Old Town Days.
Fränder is a world touring Estonian-Swedish band, that plays ravishing music that is based on both folk music of Estonia and of Sweden and their own complex arrangements. Estonia shares long ties with Sweden through culture and education. This time there will be also a link to Finnish music, because a fiddle player Mirva Tarvainen comes on stage with Fränder as a guest performer.
The Reval Folk concert on Tallinn Old Town days is therefore dedicated to the friendship of Estonia and Sweden.
Fränder is an old Swedish word referring to both family and kindred as well as fellow humans.
Band members are:
Säde Tatar (Estonia) – flute, vocals
Mirva Tarvainen (Finland) – vocals, fiddle
Gabbi Dluzewski (Sweden) – string instruments, vocals
Daniel Dluzewski (Sweden) – bass, vocals
Gabbi and Daniel have played together since their childhood. In 2015 they decided to form a band together with Säde, who came to study to Sweden. For Fränder writing music together is a very surprising process. As siblings Gabbi and Daniel had a lot in common musically, but they always had their own preferences. This formed an exiting basis of collaboration where they constantly discovered new things about each other. Säde´s roots in the Estonian folk music tradition added yet another spice to the collective. The Finnish fiddle player Mirva Tarvainen joined the band in 2018.
In 2017 they released our first album. Fränder has performed in Canada, Japan, Guatemala, Sweden, Finland and Estonia.
More about the band:
Videos:
Youtube channel of Fränder
Duo Säde Tatar and Gabbi Dluzewski at ETV Terevisioon:
REVAL FOLK:
We are a civic initiative that began in cooperation with NGO Reval Folk and the folk music department of the Tallinn-based Estonian Academy of Music and Theatre. Our aim is to help people connect with their roots in busy-minded Tallinn, the capital of Estonia. Our second aim is to inspire young people to study folk music on a professional level in the Estonian Academy of Music and Theatre. We believe that music is everyone´s birthright. Getting to know traditional music from around the world helps people find their authentic selves. This unfortunately has become a rarity in our business and technology oriented world.
More at: www.revalfolk.ee / Reval Folk / www.instagram.com/revalfolk