Reval Folk made an interview with Anne Hytta – the folk musician of the year 2018 in Norway. Anne will perform with her hardanger fiddle on a Reval Folk concert solo on the 2nd of March at 7pm in Old Town Music House (Uus street 16c, Tallinn). Tickets are available HERE. More about the concert HERE.
The interview is made on the 13th of February 2019
Reval Folk: How were you introduced to the instrument in your life? How did the fiddle and the hardanger fiddle come to you?

Anne: I grew up in an area with rich folk music traditions. My family are not performers, but my father was very interested in the music and he also had a fiddle. I thought the instrument was very beautiful, and the sound, a crispy, clear silvery sound appealed to me. I was very fortunate to have a master fiddler in my neighbour village who taught me to play.
You won the 2018 best folk musician award in Norway. What does it mean to you and what it has meant for you to come to that place?
Actually, it was not the prize for the best folk musician, I think the English title is Folk Musician of the Year, or something like that. It's a prize that the folk music organization in Norway, FolkOrg, grants an artist each year who has made a significant mark that year. For me, 2018 was a year of many album releases, I received the Norwegian Grammy for the best folk music album, and I had a lot of concerts, so I was naturally very happy and grateful for this honourable prize. It is a good feeling when your work receives recognition and appreciation, that is not something I take for granted.
You have also been playing with many other musicians during your career. And yet your
instrument is something that is normally played solo. What makes you connect with other musicians and what is inspiring for you in co-playing?
I guess what I really appreciate in other musicians is the ability to listen to the moment, to catch the moment, to react on the impulses from the other musicians and dare to stay there and not run along for something that isn't there. Then beautiful moments can arise. For me, the greatest difference between playing solo or with other musicians is the listening situation. As a soloist I listen inwardly for my feelings, and unconsciously I think I also listen a lot to the audience – I get a feeling of a very strong connection with the audience as a soloist. As I, of course, also do when I play with ensembles, but then the listening situation is very much concentrated within the ensemble, and the audience forms more of an outer circle of the communication.
What is special about the area where you come from? Can you please describe the everyday life of people or some local traditions?
The area where I come from has a rich repertoire of fiddle tunes and folk songs, and for people outside of Telemark, it sounds very natural that a person from that area plays traditional music. The fact is, of course, that most people don't. I grew up liking this music, whereas my friends were not familiar with it at all. People go cross country skiing quite a bit in the winter, and in the summers people enjoy taking care of their gardens and home life. Norwegians are generally very attentive to their home and spend a lot of time on maintaining and renovating their homes.
We definitely have local food and local traditional costumes, which people wear for occasions like weddings, the national celebration day on the 17th of May, and so on. There are many things I could write, but for a local it's not so apparent to see what is exotic and different for a foreigner. 🙂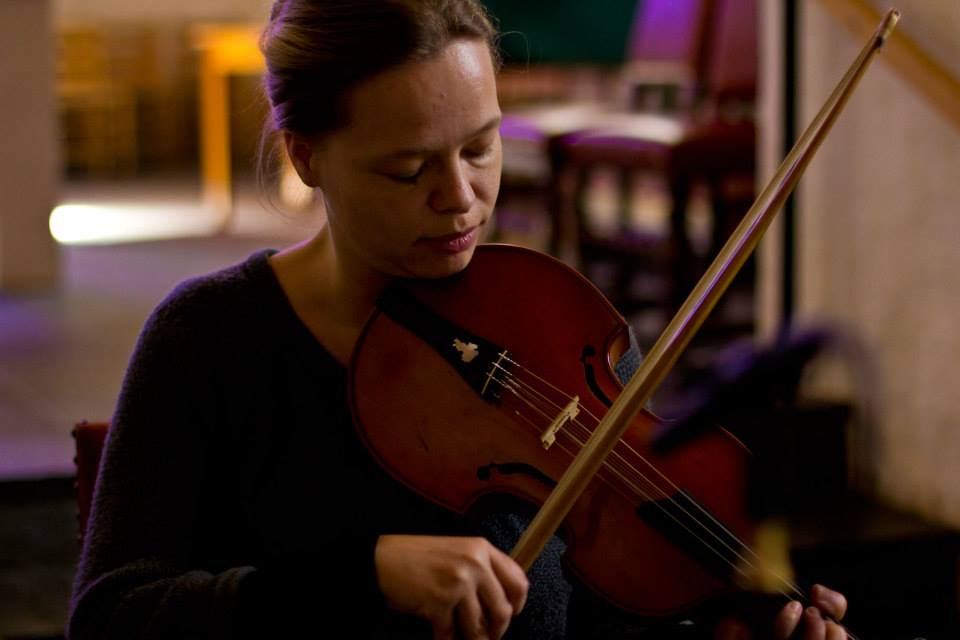 What attracts you to Estonia? What connections do you have with Estonia?
Scandinavians are very interested in the Baltic countries, and also feel a tie with this area. Although maybe Swedes and Finnish people have a closer connection than Norwegians. I am interested in the culture, and the language history is also interesting to me. The mix of your old culture with the new is fascinating, and the old towns of your cities are very beautiful. Your folk music is very nice, and I feel especially drawn to your older traditional music, with the bowed harp and your old songs.
You are mostly a solo artist. What do you do to recharge yourself after concerts and from where do you get your inspiration to create your own beautiful tunes?
After a period of especially hard work and a lot of concerts, I take some days off, going to cafes, reading papers, and just looking out the window, watching Netflix series, or meeting friends and family. I enjoy times like that. Working on new material, I find ideas mainly come in the evening. I play around with an idea that I have, just playing like thinking out loud, and when I find something that is maybe interesting, I record it on my phone. Then I listen to it the following day, and then I keep developing the ideas that somehow have a sting, an energy, something that I want to keep developing.
Does it mean anything special for you to be a successful solo artist as a woman? What would you say to young women who are doubting about their careers as a solo artist for encouragement?
I am glad for everything I have achieved with music, but I have never thought of being happy as a female musician – just simply that I am grateful for what I have achieved as a person, as me. This way of thinking is possibly influenced by the fact that I belong to a very small percentage of extremely privileged people, being born into a wealthy country with funding and financial support for artists, and also with more equality between men and women than most places in the world. That being said, I feel quite certain that as a woman I've had to work harder and longer to be considered a musician worth listening to. If I was to give a piece of advice, I think I would say that the daily work can never be emphasized enough. Not necessarily extremely HARD work, but just keep on working. Don't let a bump in the road stop your work, find another way. Finish what you started, whether it is a concert of new music, a solo album, or an internet page with info.
What is your favourite spot in Norway and why?
It depends on my mood! When I am in my childhood village, Sauland, in Telemark, I like to go up to the woods. At one point there is a steep uphill road into the mountains, and when I am on the top of that hill, I have a view to some beautiful mountains. That is a favourite spot. Another day, a busy café in Oslo can be my favourite spot..